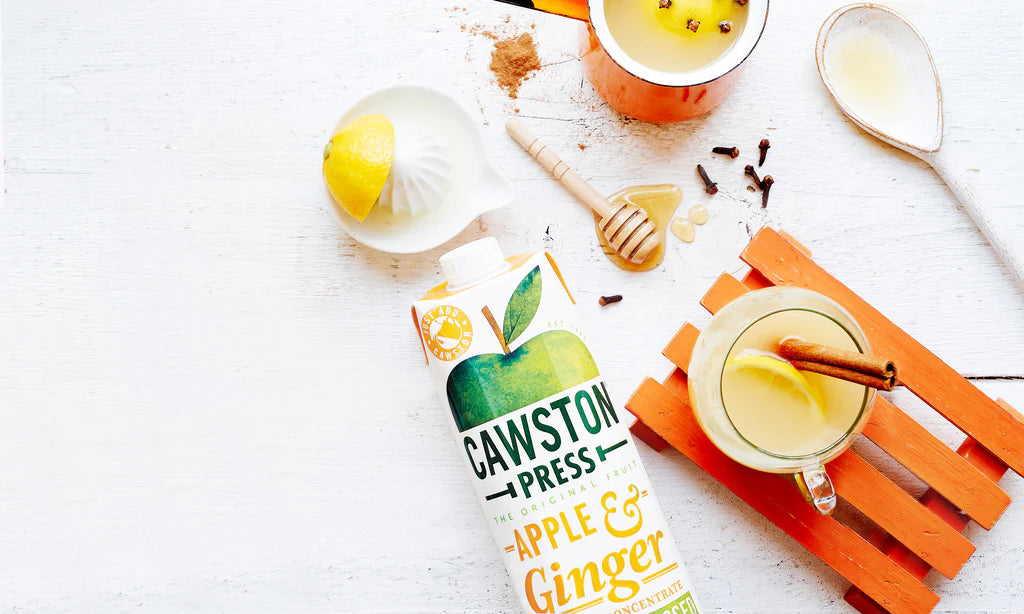 HERE'S WHAT YOU NEED TO KNOW
TERMS & CONDITIONS
Thanks for dropping by. Before you go ahead, you should know that by using our website, you're saying you agree with our terms and conditions. So if you don't agree with them, you shouldn't go in and if you'd like to tell us why, please get in touch.
"We" are Cawston Press Ltd, and we own and run this website. The legal details: Company registered in England, company number 04019196. Registered office: Timsons Business Centre, Bath Road, Kettering, Northants, England, NN16 8NQ VAT number: 727 4827 10
Our website has general information about our products, recipes and other stuff we hope you will enjoy. You also have links here to get in contact with us. There's a place here to sign up for our newsletter, for regular news, views and updates about what we are up to. Our website is general information only. We may change it any time.
Everything on our website, and the website itself, is copyright material that we either own or license. You can print off pages and download extracts for your personal reference and to share with friends. But you mustn't modify any paper or digital copies you make or download, and you mustn't use any illustrations, graphics, photographs, video or audio separately from any accompanying text. When you send or post anything you got off our website, you must identify us as owning the copyright. You mustn't use any part of what is on the site for commercial purposes unless you have first got a licence from us to do so. Ask for the terms that will apply by emailing what you want to use, and for what, to info@cawstonpress.com
We use cookies on our website. Check out our Privacy Policy for more information about that. You can disable the use of cookies by the settings in your browser. [For further information on cookies and how to control them, check out www.aboutcookies.org] We don't control the cookies on websites that are linked to ours, so if you follow a link off our website, check the settings on the new site.
We don't give any guarantee about the accuracy, completeness or suitability for any particular purpose of any information or material on our website. You acknowledge that information and material on our website may contain inaccuracies or errors. We expressly exclude liability for any such inaccuracies or errors to the fullest extent permitted by law. You use information or materials on this website entirely at your own risk. It's your own responsibility to make sure that your own requirements are met. If we provide links to other websites, those links are provided purely for your convenience to provide further information. It does not mean that we endorse the website(s), and we have no responsibility for the content of any linked website(s). Please make sure that your virus and malware protection is up to date on your equipment. We will not be liable for any loss or damage caused by denial-of-service attacks, viruses or other technologically harmful material that may infect your equipment or programs due to your use of our site, or downloading from it, or connecting to linked websites.
Cawston Press is a registered trademark of Cawston Press Ltd.
Only use the website in line with the terms we have set out in this document. If you step outside the use we have authorised for the website and for the information and materials on it, your right to use the website ceases immediately. Don't misuse our site by knowingly introducing viruses, trojans, worms or other material which is malicious or technologically harmful, or try to gain unauthorised access to the site, the server where it is hosted, or any other server, computer of database connected to the site. That sort of behaviour is a criminal offence under the Computer Misuse Act 1990, and could get you into very serious trouble.
Your use of this website and any dispute arising out of such use is subject to the laws of England and Wales.
At a time where more people than ever are struggling to put food on the table, we are honoured to finally announce our partnership with Fare Share UK, a charity whose work to reduce food waste and vital support in our communities has continued move the team. As a business we are committed to helping those in our communities to be able to put good quality food and drink on the table. Our partnership with FareShare is one of the steps we have taken to help make this a reality, and is as part of our 'Pressing for Better' strategy. So we are: - Donating 100,000 cartons of our Fruit Waters - Donating the equivalent of 140,000 meals via a financial contribution - Continuing to volunteer our teams' time FareShare registered charity number 1100051